Sisters
Written by Raina Telgemeier
Illustrated by Raina Telgemeier
Reviewed by Arden K. (age 9)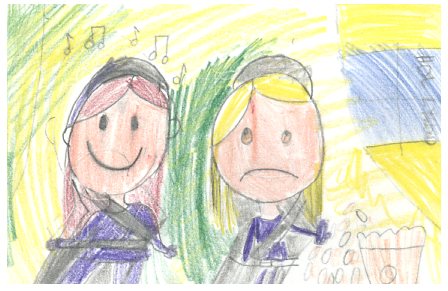 Raina is not happy about having a sister! Raina, Amara, Will and their Mom are going on a BIG family trip to see all their cousins in Colorado. In the car Raina's prize possession radio breaks. A storm came rolling in. They stopped at a creepy cottage because the weather was blah, yucky and not easy to drive in. Raina was done with her sister! After a very long trip to get to Colorado to see their cousins, they made it. They didn't think their cousins changed that much but they did. The next day they left. On the road the car ran out of gas! OH NO! Raina's mom and brother left the girls in the car. Their mom said we'll find help quicker if there's a mom and a cute little boy.
My favorite part is when Amara screams in Raina's face BE QUIET! It is funny because I do that to my older brothers all the time, so I could relate. I am like Amara because I have two older brothers and one of them acts like Raina, at times.
The main idea of Sisters is that having a sister isn't so bad after all. I love the book because it is great for people that have little sisters. It reminds them that having little sisters can be a good thing. I recommend this book to people like Raina so that they might remember that little sisters can be great!