The Kicks, Sabotage Season
Written by Alex Morgan
Illustrated by Franco
Reviewed by Lucy C. (age 8)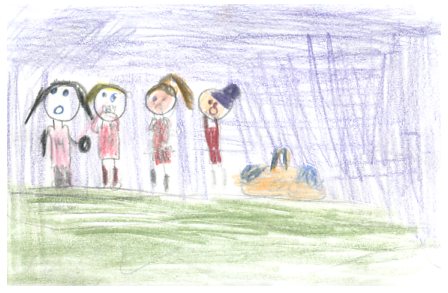 Devin is in middle school and can't wait for the next soccer season but something happens. All of that changes when Devin finds out that another soccer team might be sabotaging her soccer team. So, she takes the case to her friends and her friends help out. When Devin is not looking the other team takes her soccer bag. They spray painted her t-shirts and took her soccer cleats and shin guards. Oh No!
My favorite part was when Devin and her friends turn on the sprinklers on the Rams, the other team. I thought it was cool because they were getting revenge for sabotaging them before. It was funny too because the Rams were screaming while they were getting wet.
The lesson was, to never give up or things will go wrong. Devin never gave up on trying to find out who sabotaged her team and that lead them to figuring it all out.
I enjoyed this book a lot and my favorite character was Devin. I thought she was strong and brave and steady. I recommend this book for ages seven to ten, especially if you like soccer and I hope you will learn a lesson too!