Because of Winn Dixie
Written by Kate DiCamillo
Reviewed by Chayane T (age 8)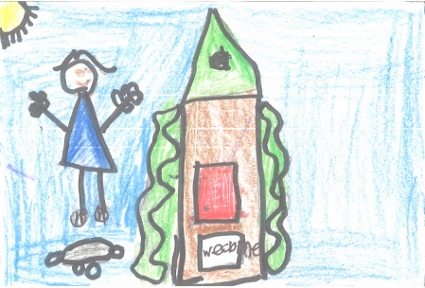 Do you want to go on an an adventure with a dog and a girl? Well, if you do, go on the adventures with Opal and Winn-Dixie. You will find that they meet lots of friends, like Otis, Miss Franny, Gloria Dump, and the Dewberry boys. If you want to meet the rest of them, read this book, and read about all of their adventures.
I'm Chayane. My favorite part of Because of Winn-Dixie was when Winn-Dixie ran into Gloria Dump's yard, and she gave him some peanut butter. This was my favorite part, because when Winn-Dixie was eating peanut butter, I could picture peanut butter all over Winn-Dixie's face. The character in this book that was my favorite was Miss Franny Block because she loves to read, and I do too. The character that I made a connection with in Because of Winn-Dixie was Otis because he loves pets, and I do too. He is shy because he has been to jail and a little ashamed, and I am shy when I meet new people.
Hello, my name Is Chayane, and if you know me, you know that I don't really like dogs, but I love this story! I recommend this book to all dog lovers and animal lovers.