Because of Winn-Dixie
Written by Kate DiCamillo
Reviewed by Jaysin R (age 9), Miley A (age 9)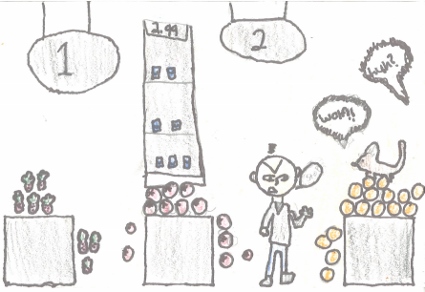 A girl name India Opal Buloni went to the store to get three things, and she came back with...a dog. Opal named the dog Winn-Dixie, the same name as the store that she found him in. Opal and Winn-Dixie go on many adventures and find new friends. This book is both funny and sad. Read this book to meet Opal and Winn-Dixie's new friends, and read all about their adventures.
Hi! My name is Miley. My favorite part of Because of Winn-Dixie was when Opal went to the grocery store. That is when Opal found Winn-Dixie. This was my favorite part because Winn-Dixie was going crazy in the grocery store, and Opal saved Winn-Dixie from going to the pound! The character that I made a connection with was Opal, because I once had a dog too, and she ran away like Winn- Dixie. Luckily we found her. She was in the woods with her leg stuck in a tree branch. We took her to the vet, and she had to get a cast. She got better though. The character in this book that was my favorite was Opal because she is kind, and a dog lover like me!
Hi! My name is Jaysin. My favorite part of Because of Winn-Dixie was when Gloria Dump fed Winn-Dixie peanut butter. It was funny just thinking about a dog trying to eat peanut butter. My favorite character is Winn-Dixie because he likes to smile, and my dog likes to smile too. I made a connection with Opal when she was trying to find Winn-Dixie and she couldn't find him. I lost my dog, Bud, once, and he was inside the whole time when I found him.
We recommend this book to people who like animals because the main character is a dog named Winn-Dixie. It is a funny and really heart-warming book that people of all ages would enjoy reading.