Adventures of Don Quixote
Written by Argentina Palacios
Illustrated by Thea Kliros
Reviewed by Aidan W. (age 10)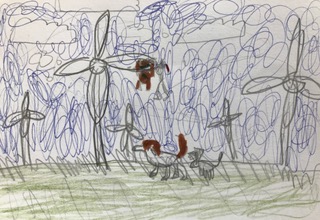 Don Quixote is about a crazy old man named Don Alonso who changes his name to Don Quixote. His friends and enemies include Sancho Panza, a chubby farmer of a squire, Rocinante, a bored nag of a steed, Gines de Passamonte, an arrogant prisoner, Rucio, Sancho's faithful donkeypanion (donkey companion), and those crafty priests and barbers.
I liked Don Quixote because of all the ridiculous stuff Don Quixote and Sancho do, like fighting windmills and wineskins. My favorite part was when some people tricked Sancho into being the "mayor" of a village and they pretended that the village was being invaded. Sancho went into battle with shields all over him. That was my favorite part because Sancho looked ridiculous and it's hard to believe the villagers were actually able to trick him. I also liked the part where Sancho puts cottage cheese into Don Quixote's helmet because it was hilarious. After Sancho went into "battle," the people changed their opinion and thought he was a good mayor. I was amused as I read the book because of all the crazy stuff that happened.
I would recommend Don Quixote because it's funny. I think that people would like Don Quixote who also like other fantasy books.