Mercy Watson
Written by Kate DiCamillo
Illustrated by Chris Van Dusen
Reviewed by Elspeth D. (age 8)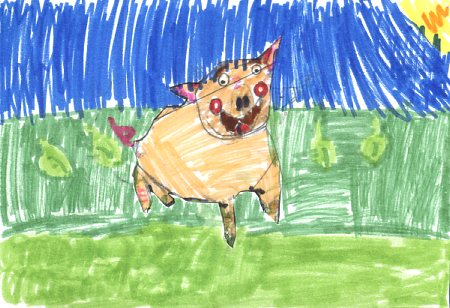 Do you like to read a funny story? If you do you will love Mercy Watson to the Rescue by Kate DiCamillo. The characters are Eugenia who is the grumpy old neighbor, Mercy Watson the pink pig, Mr. and Mrs. Watson, Mercy's owners. Mercy loves hot buttered toast with a massive deal of butter. Mercy went to get toast when Mr. and Mrs. Watson think that she is going to get firefighters to save them.
I think the book is funny because then Mr. and Mrs. Watson nearly fall through the ceiling. Mr. and Mrs. Watson thought that Mercy Watson saved them, but Mercy wanted to get toast at Eugenia's house. I also think the book is funny because Eugenia chases Mercy Watson around the backyard. Eugenia says that pigs aren't allowed in houses and Mercy came into Eugenia's house. Another reason it is funny is that at the end, Mercy Watson got a giant stack of toast and Eugenia gets none for screaming at Mercy.
I recommend this book for ages 5-9. I think this book is funny. If you think the examples I gave are funny you should run out and buy it!