I Survived: Hurricane Katrina
Written by Lauren Tarshis
Illustrated by Scott Dawson
Reviewed by Leo L. (age 8)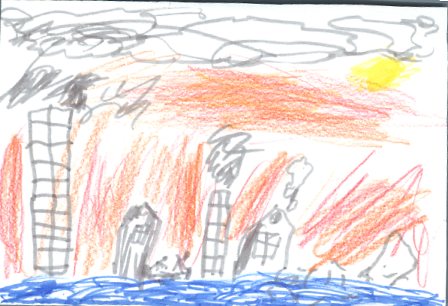 If you like learning about hurricanes, you would like this book: I survived Hurricane Katrina, 2005. You might learn about hurricanes and it is really fun to read and a cool book. You can learn a lot about hurricane Katrina and there are a lot of fun words in the book.
For example, you will learn that hurricanes are made of storm wind. Another thing you will learn is how the water got in the city because the levee broke. Then the flood rushed to the city. The wind and the water destroyed the houses and big buildings and it torn down signs. Sticks and trees were flying around and blowing a lot.
This book is really fun to read because the main characters are kids and the kids are telling the story.
I think the book was cool because it was about a flood and a hurricane in the same area and they are both natural disasters.
I recommend it for ages 7 to 12. I bet you would like the book and I think it is really good. And if you want to ask your mom or dad if you want to buy the book ask nicely.