Ellray Jakes the Dragon Slayer!
Written by Sally Warner
Illustrated by Brian Biggs
Reviewed by Carlo L. (age 9)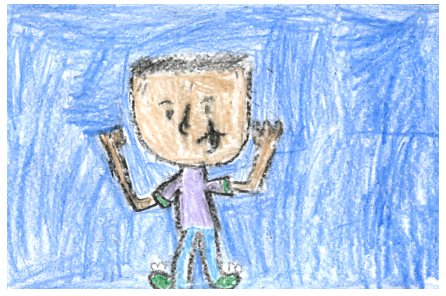 EllRay Jakes The Dragon Slayer! by Sally Warner is about an 8 year old boy named EllRay. The story begins when EllRay goes to pick up his 4 year old sister Alfie from Kreative Learning Daycare. Inside he finds 3 girls laughing with Alfie but Alfie had a sad look. EllRay sees they were laughing at her. They called her poop jacket. One of kids was Suzette. Alfie thinks she's her friend but Suzette doesn't like her. A few days later Alfie's sad again so EllRay tries to get her to stand up to Suzette by pretending to be Suzette. He finally gets Alfie to stand up to Suzette. When she comes from daycare the next day she tells EllRay that she had to give Suzette a doll to stop her. EllRay knew Suzette was tricking Alfie so when Suzette comes to Ellray's house he threatens Suzette that he will tell everyone she wets the bed. So she tells EllRay she won't make fun of Alfie. The next day when he picks up Alfie, he sees Suzette. Is Suzette Alfie's friend? Read the book to find out.
I think this book is good because it's very surprising. I think the illustrations are very detailed because when Alfie is being bullied, you can tell she is very sad. In one picture Alfie is at her daycare standing by the rabbit cage. There are some girls standing behind her calling her names. You can tell that Alfie's sad because she's frowning and kicking rabbit poop from under the cage of the class pet. There are a lot of good parts but my favorite was when Stanley's father told EllRay's dad that EllRay bullies Stanley when he didn't even do it just to get EllRay in trouble. It was surprising because you didn't know what was going to happen next. Stanley told his father that EllRay broke his glasses even though he knew it was an accident. He only did it to get EllRay in trouble. EllRay is my favorite character because he does anything he can to help Alfie. He makes fun of Suzette so she would stop bullying Alfie. This book is called Ellray the Dragon Slayer because he acts like the slayer trying to stop the dragon or in this case Suzette. This is my opinion for the book EllRay Jakes The Dragon Slayer.
I will recommend this book to 2nd and 3rd graders who like realistic fiction people would also like this book because EllRay is a fun character with realistic actions. I will also give credit to the author for his deep details . I will also credit the illustrator for his detailed illustrations throughout the book.