The Princess in Black
Written by Shannon Hale
Illustrated by LeUyen Pham
Reviewed by Amelia M. (age 8)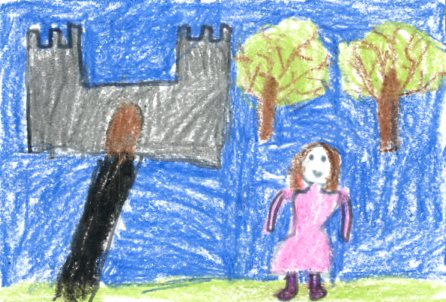 The Princess in Black by Shannon Hale is a book series about a lovely clever princess who seems to vanish whenever somebody is over at her castle. In each book there is a new character introduced, but in every book there is a boy who takes care of goats and he is called goat boy.
I like this book because it is a mystery book and I love mystery books! For example, in the book The Princess in Black's Castle, Princess Magnolia keeps on disappearing from the room she is in. I also really like the pictures in the book. They are so silly. When Princess Magnolia comes back from her boom closet, her hair is so messy and the pictures help you understand where Princess Magnolia goes, sometimes...
The books are funny too because sometimes the goat boy puts on silly costumes to make himself look like a superhero. Princess Magnolia finds out that the goat boy is just pretending to be a superhero. It made me laugh so much and it might make you laugh.
Another reason I like this book is that there is a person who fights monsters that looks the same as Princess Magnolia. Could they be the same character?
If you like secrets and funny parts in books, then I think that you will love the book The Princess in Black just like me. I recommend this book for ages 7-10. Where do you think Princess Magnolia goes when she goes into her broom closet? Read the book to find out!