The Twits
Written by Roald Dahl
Reviewed by Alexander S. (age 8)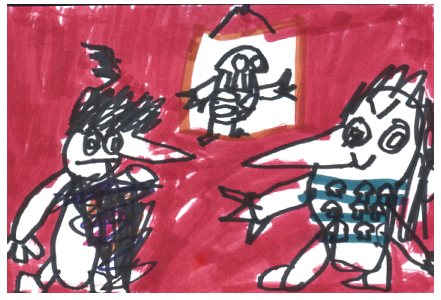 I read the book The Twits by Roald Dahl and illustrated by Quentin Blake. The main characters are Mr. and Mrs. Twit. The setting is their old house that looks like a prison. In the story Mrs. Twit started a prank war by putting her glass eye in Mr. Twit's beer mug. They kept pranking each other until Mr. Twit gives Mrs. Twit the shrinks. The shrinks aren't real. He makes her stool longer and her walking stick longer. He pretends to cure her by stretching her out. He ties her to the ground with a handkerchief and ties balloons to her hair to make her stretch up. He cuts the handkerchief and she floats away. But she comes back. Every Tuesday they make bird pie. The monkeys try to save the birds. Read the book to find out how the monkeys get the ultimate revenge on Mr. and Mrs. Twit.
I think The Twits by Roald Dahl is a great book. The Twits are funny because they pull pranks on each other. My favorite prank was when Mr. Twit tied balloons to Mrs. Twit to help cure the "shrinks." I love the book because it has cute monkeys in it. The monkeys were doing upside down tricks that made them cute. They were also smart because they helped the birds survive being eaten. I think the Twits are mean because they torture monkeys. I do not like Mr. Twit because he always has gross stuff on his beard. One time he had a fish in his beard that was still alive!That's why I think it's a great book.
I would recommend The Twits by Roald Dahl and illustrated by Quentin Blake to people eight years old to twenty four years old. I would recommend this book because it's funny. I think that age group will like this book because it will give you laughs. It will make you want a pet monkey. Roald Dahl is a good author because he makes funny books. He also makes short chapters that make it easy to read. The illustrator makes the pictures describe the story well. You'll find out the rest of this funny book when you read it.