Young Cam Jansen and the Double Beach Mystery
Written by David A. Adler
Illustrated by Susanna Natti
Reviewed by Samantha D. (age 8)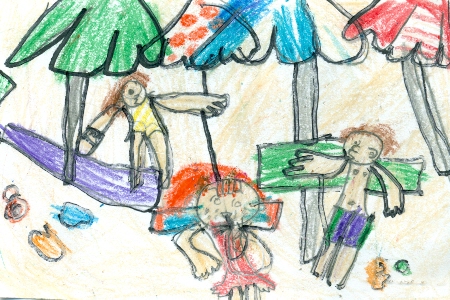 This is about a girl named Cam. Her real name is Jennifer but everyone calls her Cam because her brain is like a camera. She remembers lots of details. This story is about Cam and Eric's visit to the beach. Somehow, they get lost and can't find their way back to Cam's mom. Will they be lost forever? You have to read the book to find out.
I like the book because the beach is one of my favorite places and this book takes place there. In this story they pick up seashells and I do that too. This book reminds me of other young Cam books where Cam solves mysteries. I love reading Cam books.
I recommend this book for 2nd to 3rd graders because I think it will be too hard for kindergarten children and first graders. People who like books with detectives will enjoy this book. The illustrations were great because they are detailed. Young Cam is a series that you should try!