Nancy Drew and The Clue Crew: The Zoo Crew
Written by Carolyn Keene
Illustrated by Macky Pamintuan
Reviewed by Zoe F. (age 8)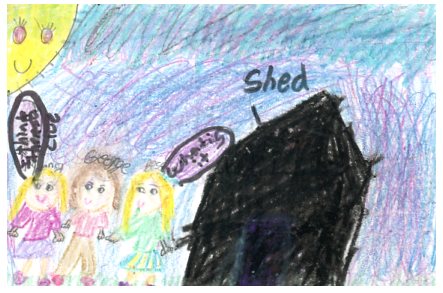 Nancy Drew and the Zoo Crew written by Carolyn Keene, illustrated by Macky Pamintuan is about three girls Nancy, Bess, and George who solve a lot of mysteries. At the beginning, the girls are in a summer camp at the zoo. The counselors divide the kids into groups to look at the animals and do projects. Nancy, Bess and George make all different kinds of toys for the all kinds of animals at the zoo. But every night, the toys keep on disappearing. They start looking for clues in the Discover Den because that's where the animals were. They decide to stay up all night to watch who was stealing the toys. Unfortunately Bess and George fall asleep, but Nancy stays awake. The person who stole the missing toys didn't come because Nancy was awake. Everyone is considered a suspect, but who is doing it? Read the book to find out who is stealing the missing toys.
Nancy Drew and the Zoo Crew is one of my favorite books that I ever read. My favorite part in this book is when the chimps were playing with plates and throwing them at campers from another team. That part was really funny. This book reminds me of my friend and I because we always solve mysteries about different things. One time I lost my bracelet and I looked everywhere, but I couldn't find it. I asked my grandma and she said to look in my room. It was a real mystery. Then I remembered that the last time I saw it was in my brother's room on his desk. So I looked and I found it! I like the character Nancy because she is very smart and never gives up. There was only one day of camp left, but Nancy knew what to do to find the missing toys. There was a party at night and they wondered where Marnie was. They saw her running to the shed and they followed her. Behind the shed was the animal shelter and they saw some animals that were sick. When they checked the x-ray machine that the zoo uses to see why the animals were sick, they found a clue. The clue helped them find out why the animals were sick and how to get the missing toys back. That's why I liked to read this series.
I would recommend this book to 1st through 4th graders. If you like to solve mysteries and to read about people who solve them, this is a perfect series for you. Nancy, Bess, and George worked really hard to find out who the thief was. This is why it is one of my favorite books. Maybe you should give it a try too.