Bunnicula
Written by Deborah and James Howe
Illustrated by Alan Danieil
Reviewed by Joseph D. (age 8)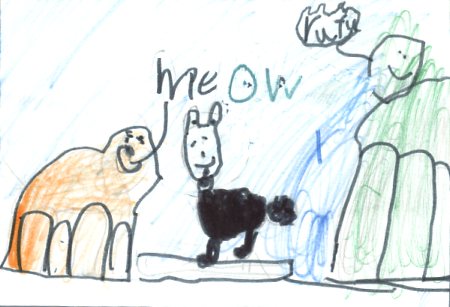 I think Bunnicula is a really funny nonfiction book. The authors are Deborah and James Howe. The characters are Bunnicula, Harold the dog, Chester the cat, Mr. and Mrs. Monroe, Pete and Toby. Pete and Toby get a rabbit and Chester thinks it is a vampire.
I think Bunnicula is a vampire because he took the juice out of the lettuce and it turned white. Bunnicula also has sharp teeth and slept during the day and stayed up the whole night. Vampires sleep during the day because if they look at the light they perish and disappear. I like Bunnicula. It is cool because I like vampires and their teeth are sharp. I like bunnies, too.
I think you should run out and get this book. I recommend this book for 2nd, 3rd, 4th, and 5th graders.