Dragons Love Tacos
Written by Adam Rubin
Illustrated by Daniel Salmieri
Reviewed by Emmett T. (age 7)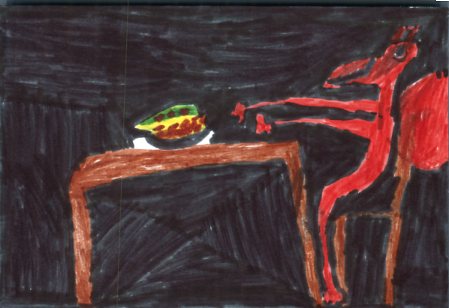 Do you like tacos!? If you do then you will like the book Dragons Love Tacos by Adam Rubin. The book is about dragons and tacos. The characters are the dragons, a dog, and a kid. The kid is daydreaming about dragons eating tacos. He daydreams that he has a taco party and first he fills his house with tacos and then he gets a giant boat and fills it with tacos. The kid invites a lot of dragons and he forgot to dig a whole to bury the little bottle of salsa and the dragons put it on the tacos. They eat the tacos and start breathing fire.
This book makes you hungry for tacos. On every page there is a taco or two and they look realistic. For example, on one of the pages, the dragons are eating tacos with mild salsa and you can see the salsa coming out of the taco. Yum!
If you also like dragons you will love this book. In the book the dragons burn down the house by breathing fire. The kid and his pet dog hide under a table so they don't get burned.
I also like the book because the pictures tell you about how the story is going. On one page, there is a dragon and there is a bag of tacos hanging on the dragon's tail. The dragon is coming out of the cave named Taco Cave.
If you want to be friends with a dragon have a taco party. I'm sure they'll come if you invite them to a taco party just for dragons. Remember no spicy foods!
I think you should get the book Dragons Love Tacos. I recommend this book for first grades and over because some of the words are kind of hard.