Smile
Written by Raina Telgemeier
Illustrated by Stephanie Yue
Reviewed by Clara G. (age 8)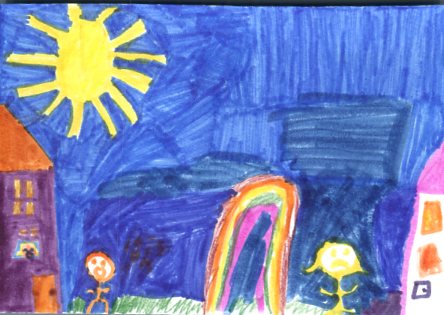 Do you like a story about a person going through a life? Then you would like the book Smile by Raina Telgemeier. The characters are Raina Telgemeier, Mom, Dad, Amara Telgemeier, Will Telgemeier, Sammy, Sean, Melissa, And Karen. It is about a girl named Raina Telgemeier. She hurt her two front teeth and had to go to the dentist and get braces. When she got to school the next day she was too embarrassed to smile at a boy that was staring right at her. But he smiled at her. He had braces too! So she smiled back.
I like this book because the author named the main character after herself. I also like it because it is something that really happened to the author. The author also had to get her teeth fixed and she had a little sister and a little brother. I also love it because it is about a girl like me. Raina and I both have brown hair, a sister and both have a problem with our teeth.
I recommend this book to 2nd through 5th graders. I think you should go run out and get Smile!