EllRay Jakes is Magic!
Written by Sally Warner
Illustrated by Brian Biggs
Reviewed by Siddarth V. (age 9)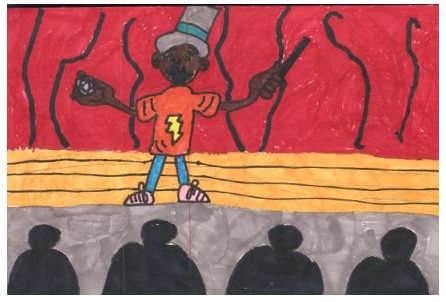 In Ellray Jakes is Magic!, Ellray is a boy who has a talent show coming up. He and his friends are not happy when they hear about the talent show. They are not happy because they think they are too old for the talent show. But, their teacher says five people must try, and Ellray is one of them. Ellray doesn't know what to do for the talent show. He thinks he might be good at magic. Ellray goes to the tryouts. He planned to pretend that he was bad at magic so that he wouldn't be picked for the talent show. For the tryouts Ellray forgot to be terrible at magic and, turns out he got in the talent show. Ellray goes to the talent show. He steps on stage. And then...well, you will just have to read the book to find out!
I like how the author makes Ellray have a lot of feelings. One time Ellray buys a cheap magic kit from a yard sale. But when Ellray opened the box, he was very disappointed. He was disappointed because he didn't get what he wanted. Another feeling was he was very nervous at the tryouts because he didn't want anything to go wrong. I liked the part when Ellray forgot to be terrible at magic so he wouldn't be picked to be in the talent show because it was funny. I like the character Ellray because he looks after his sister. Alfie thought Ellray was magic and thought that Ellray could turn her into two quarters because she was confused how Ellray did his trick. Now Alfie is not scared of Ellray because Ellray showed her how he did the trick. The chapters in this book are very short, so that makes the book fast to read. I like the book because you can read it really fast so it is a lot easier to read the whole series.
I recommend Ellray Jakes is Magic! to 3rd and 4th graders. If you like comedy, this book is just right for you. You also might have a connection if you have little brother or sister. There are a lot of surprises! You might like the problem because in the book, Ellray is struggling, and you might wonder if Ellray gets what he wants.