Adventure According to Humphrey
Written by Betty G. Birney
Reviewed by Edith S. (age 8)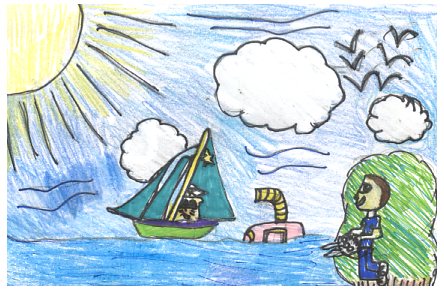 Humphrey is a smart and helpful hamster. Humphrey likes and is good at solving the kids' in Room 26's problems. In the book, Adventure According to Humphrey by Betty G. Birney, Room 26 is having a boat making contest. Kirk is paired up with Richie. But Kirk does not let Richie do any of the work. "Stop Giggling Gail" is usually really happy and giggly. But, Gail's mom, an artist, keeps encouraging Gail to not make such plain designs, and to decorate the sail and be more artistic like Heidi (Gail's boat partner). But because of her mom, Gail gets mad and then she isn't happy or giggly anymore. Richie's jealousy of Kirk doing all the work makes Richie break the rules. Humphrey somehow ends up in Richie's plan to break the rules. When Humphrey falls asleep in Richie's and mostly Kirk's boat, and when Richie loses control of the submarine while Humphrey is on the boat … can he get to dry land in time? If you want to find out, you'll have to read the book.
My favorite part was when Humphrey ended up in the boat and Richie's submarine was about to hit it because then I wondered if Humphrey would be saved or fall in the water. I learned from Richie and Kirk fighting, and what happened in the end, that if someone is mean to you, don't be mean back. Kirk was doing all the work on the boat and being mean to Richie, so Richie cheated in the contest to get back at Kirk. I disliked how Kirk acted in the story because he was being selfish and mean to Richie. For example, in the story Kirk said, "Look, Richie, just let me do this. I can practically promise we'll win because I know what to do."
I recommend this book for second to fourth grade boys and girls. I also recommend this book for kids who like mystery and adventure. I think kids should read this book because Humphrey is a smart, helpful and caring character. This book is also for kids who like books with pirates and sailboats. Read Adventure According to Humphrey to find out what happens to Humphrey. ENJOY!!!