Lulu and the Brontosaurus
Written by Judith Viorst
Illustrated by Lane Smith
Reviewed by Jolie M. (age 9)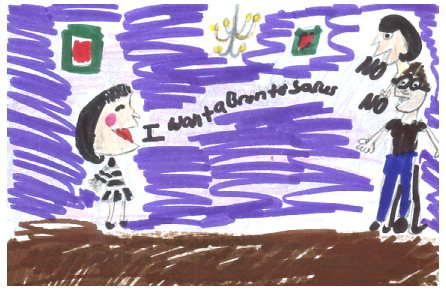 Lulu and the Brontosaurus is a wonderful book by Judith Viorst and illustrated by Lane Smith. It is about a spoiled little girl named Lulu who just wants more and more. In the beginning, a few days before Lulu's birthday, Lulu asks her parents for a brontosaurus. Her parents say no so Lulu lies on the floor and screeches until the light bulbs burst. Still Lulu keeps begging and begging and her parents keep on saying no. But that doesn't stop Lulu. She decides to go into the forest to get a brontosaurus for herself. In the forest, Lulu meets a snake, a tiger, and a bear that try to hurt her, but Lulu defeats them. Lulu faces many difficult challenges but in the end….you will have to read the book to find out what happens to Lulu and if she ever finds a brontosaurus.
In my opinion Lulu and the Brontosaurus is a wonderful book. My favorite part is when Lulu meets the snake. I like that part because Lulu is singing her song, "I'm gonna, I'm gonna, I'm gonna, gonna get a bront-bronto-bronto-brontosaurus for a pet," and a snake comes, squeezes her and says, "I will squeeze you dead." And Lulu says, "Not if I squeeze you deader." And then Lulu squeezes the snake off her. I love the illustrations in the book. I feel the illustrator, Lane Smith, matches his pictures with the words. They are so funny. For example, there is one picture that shows Lulu hitting a slinking tiger on the head with her lunch box. I love this book. I also like it because Lulu has a great change and learns a great lesson. At the end she is giving the animals she hurt presents like a blanket, honey, and a rug. This is what I liked about the book.
I would recommend this book to kids who would like a journey through a book and enjoy surprising, funny parts. The book takes you on a journey with Lulu as she learns to be a better person. You almost feel like you are falling into the book. I compliment the author for writing the funniest book I have ever read. For example the author had Lulu defeat vicious animals that in real life no little kid could defeat. The author includes awesome, specific evidence to match Lane Smith's illustrations, and he shows what Lulu says, does, and thinks in the pictures. When Lulu screeches until the lightbulbs burst, she uses specific words to describe it. Lane Smith draws the funniest drawings ever. I loved the one when Lulu stamps on a bear's foot. I would definitely recommend Lulu and the Brontosaurus by Judith Viorst and illustrated by Lane Smith.