EllRay Jakes is Magic!
Written by Sally Warner
Illustrated by Brian Biggs
Reviewed by Donato G. (age 8)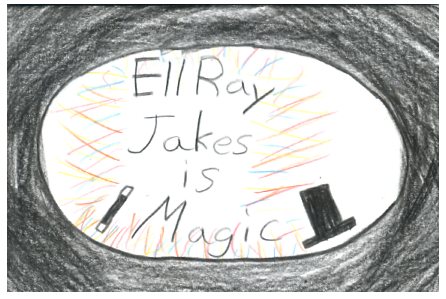 Ellray Jakes is Magic by Sally Warner is a fantastic and magical book about a talent show. In the beginning of the story the principal announces that there is going to be a talent show. The students don't like the idea, but Ms. Sanchez, the teacher, will not let them out of it. Five students must tryout. After school all of the students get together on the playground. They try to think of ideas that are good enough to try out, but won't make the talent show. Nobody had any ideas though. When Ellray gets home, he tells his dad that there is a talent show coming up and his dad says great, but Ellray isn't happy. Ellray and his dad go to yard sales. At the yard sale Ellray finds a magic kit in the kids' section. He only has $3 to spend, but the guy says he can have it for $2, if he buys something else at the yard sale. All that ends up being in the magic kit is a cardboard wand, a plastic coin, a pretend egg, and a bunny. Alfie, Ellray's sister, takes the bunny, but the kit isn't helpful because there isn't much in it. His dad goes onto Youtube to look up videos of magic tricks he could do. He ends up trying out with his magic tricks and he makes it even though he still really doesn't want to do the talent show. Read the book to find out how Ellray performs in the talent show.
There are many things I like about this book and some that I do not. I do not like the drawings because the heads are just circles. In all the pictures including the cover, Ellray has a big head and a small body. I prefer the illustrations by Jamie Harper who illustrated Ellray Jakes is not a Chicken because the heads are smaller, not circles, and more realistic. My favorite part is the talent show because it shows that a change happened. I know this because in the beginning Ellray thinks he doesn't have any talent and is going to get booed, but over time with his father's help he gets the hang of it. My favorite character is Ellray because he is brave. In the story he tries out for the talent show and performs in it even though he didn't want to. On the night of the show he was worried he would forget lines and if someone was recording, he might end up on the Internet. Those are some reasons I like and dislike the book.
I would recommend this book to any boy or girl ten and under. I think this because Ellray is in third grade and kids ten and under encounter the same problems as Ellray. They get stage fright when performing, get bullied and sometimes don't have friends. The Ellray books help because they tell you how you could handle those situations. I hope you like the book as much as I do.