Harry Potter and The Goblet of Fire
Written by J.K. Rowling
Illustrated by Mary GrandPre
Reviewed by Andre M. (age 8)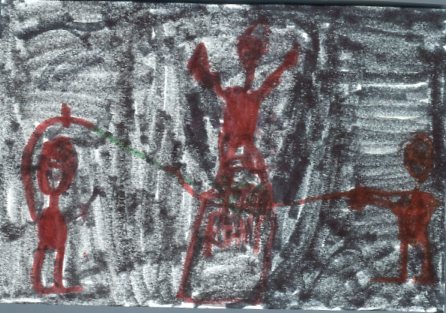 Do you like magic? If you do, you will love Harry Potter by J.K. Rowling. It is about a boy whose parents were killed the night Harry was born. Harry killed Lord Voldemort, the one who killed his parents, the night he was born. Harry has to go to a magic school without his parents. This school is Hogwarts School of Witchcraft and Wizardry. Harry meets Ron and Hermione on the train to school and they become friends.
I enjoy reading this book because I enjoy magic. I also love the book because lots of exciting things happen. Here are some exciting things that happen: the Tri-Wizard tournament and the quidditich world cup. At the Tri-Wizard tournament, Harry has to fight a dragon to get a golden egg and the egg had a clue to the next task. The next task is that Harry has to go into the black lake and rescue his friend Ron and he tried to rescue his friend Hermione, but someone else took her. So he rescued Fleur Delacour's sister because she surrendered from the task. Because he did that, he got second place.
At the quidditich world cup, something that is exciting is when the Dark Mark shows up in the sky. This means that Lord Voldemort has come back and has a plan to get Harry.
The genre of Harry Potter is a mix of fantasy, adventure, and action. My least favorite character is Professor Umbridge. She is in Harry Potter and the Order of the Phoenix. I recommend this book for ages 6 and up, so run out and get this book.