Because of Winn Dixie
Written by Kate DiCamillo
Reviewed by Ashlynn (age 8), Alondra X (age 9)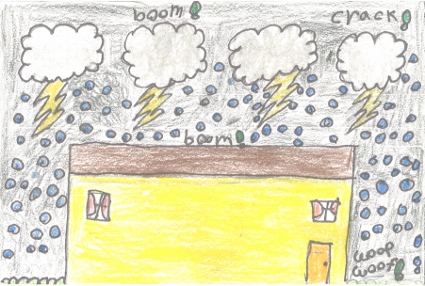 There was a girl named Opal. Her dad, the preacher, sent her to the Winn-Dixie grocery store to buy two tomatoes, white rice, and a box of macaroni and cheese. When she went into the grocery store, there was a dog inside the grocery store running around having a whole lot of fun, but while he was having that fun, he was also knocking over fruits and vegetables all over the place. Then a manager yelled, "Who let a dog in the grocery store?!?" Then the manager said, "I'm going to call the pound!" Then Opal said, "That's my dog!" It wasn't really her dog, but she lied because she didn't wanted the dog to go to the pound. Try to read the book to find what is going to happen next.
I'm Alondra. My favorite part of Beause of Winn-Dixie was when Opal had a party at Gloria's house. This was my favorite part because they get to eat Littimus Lozenges, and it was funny when Otis said that he had brought pickles, and he was saying it the whole time. The character in this book that was my favorite was Opal because she saved Winn-Dixie from the store because the manager was going to call the pound. The character that I made a connection with in Because of Winn-Dixie was Opal. The reason that I made a connection to her was because my dog ran away like Winn-Dixie did. My last dog was Jonathan. He was the last dog that I had. One day me and my sister went to a store called Aldis with my mom, and my dog, Jonathan, went with us too. My mom left a window open. She thought that Jonathan was not going to get out, but he did. When we were done shopping, we put the groceries in the car. Then when I went inside the car, Jonathan was not there. I told my mom that Jonathan was not in the car. Then, after we were done looking for him, we went home crying because we didn't find him because my mom gave up looking. If you want to find out if Opal finds Winn-Dixie read the book.
I'm Ashlynn. My favorite part is when Winn-Dixie ran into the backyard of Gloria Dump's house, and when Opal went back there, Winn-Dixie was eating peanut butter. Opal was surprised to see him so happy, especially since he was in a "witch's yard. My favorite character is Winn-Dixie because he is so happy. The reason you can tell Winn- Dixie was happy is because he is always smiling. I like when he smiles, and I think that when dogs smile it looks funny, and when dogs eat peanut butter I always laugh. The character I made a connection with is Winn Dixie because he smiles a lot, and I smile a lot too. He likes candy and peanut butter, and he caught a mouse and did not hurt it, and I caught a bee and I did not hurt it either.
I (Alondra) recommend this book to my sister because she likes me to read to her all the time even when I take my library books to my house she always tells me to read to her.
I (Ashlynn) recommend this book to my mom because she likes dogs.