Doll People
Written by Ann M Martin
Illustrated by Brian Selznick
Reviewed by Lauren B. (age 11)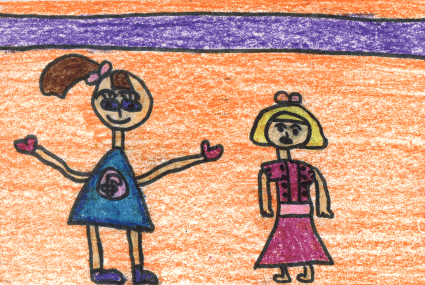 The Doll family is exactly like your family and mine except they belong to ten-year-old Kate Palmer. Annabelle Doll misses her Auntie Sarah. Wouldn't you if she'd been missing for forty-five years? Mama, Papa, Uncle Doll, Nanny, Baby Betsy, Bobby, and Annabelle would go look for her, but The Captain might eat them. So Uncle Doll, Bobby, and Annabelle set out to find Auntie Sarah while the Palmers are asleep. But, instead they found the Funcrafts. Annabelle expects them to be China dolls, but they're pink plastic. Mama, Papa, Uncle, Bobby, Annabelle, Mom, Dad, Tiffany, and Bailey go to the attic and find Auntie Sarah just in time for the party!
My favorite part of the book was when the Dolls meet the Funcrafts because their reactions are hilarious. Bailey Funcraft reminds me of my brother because they are both energetic. What is so unique about this book is that even though both families are different, they treat each other as is they are the same.
I recommend this book to kids from eight to twelve because it is very suspenseful. You will not want to put it down once you start reading, especially if you like fiction. Doll People is a wonderful book.