Babymouse Goes for The Gold
Written by Jennifer L. Holm Matthew Holm
Reviewed by Holly K. (age 7)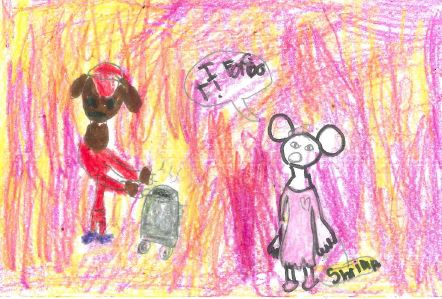 A girl named Babymouse was dreaming that she was a Olympian diver doing a dive called the reverse messy whisker in an Olympic pool. But when she opened her eyes she was in a kiddy pool with her little brother Squeak. Then her mother told her to sign up for an after-school activity. At school, she found sport sign-up sheets. She signed up for the Shrimps swim team. Babymouse thought it was going to be easy but it was not. They lost every meet.
I think this book is funny because the narrator says funny things. For example, after Babymouse's dream he said " now that is an Olympic pool." Another reason why I think it is funny is that her dreams are about her looks or what is happening in the book. Like in her Olympic dream they made up a dive called the reverse messy whisker. That is why I think the book is funny. My favorite part was when she was dreaming then opened her eyes.
I recommend this book to people who like to swim and to people who sometimes forget things because Babymouse totally forgot about her swim meet.