The Eagle
Written by Cynthia Rylant
Reviewed by Ella S. (age 8)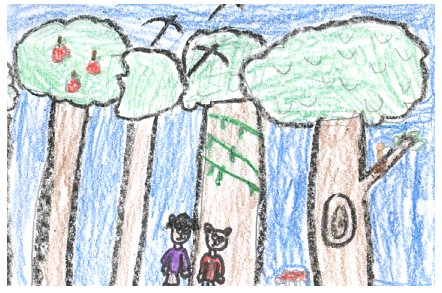 In The Eagle, you will meet a family of animals who live in a lighthouse. They are named Pandora, Seabold, Tiny, Whistler, and Lila. You will also meet an eagle. Whistler and Lila are exploring on the shore. They see the forest and deeply wish to go there. They ask, but Seabold and Pandora say no. Whistler and Lila ask once more and they say yes! They go with their snacks, tea, and compass. When they are there, Whistler drops the compass. Lila can't find where to go, so she asks for the compass. He doesn't have it. "We're lost!" Lila yells. Can you imagine getting lost in the woods without a parent and directions? Would you be scared?
I like this book because I love adventure and this book is full of adventure and also you always want to see what happens next. This story reminds me of my friend Charlotte's house because sometimes I get lost in it because it's so big. It's just like how Whistler and Lila got lost in the woods. My favorite part is when Whistler and Lila get lost in the woods. It's very exciting. I really like the illustrations. They go really well with the text. They are also very beautiful and detailed. My favorite picture is the picture with Tiny in the eggcup.
I think this book is perfect for grades 2 to 4. The theme is getting lost and might appeal to people who love adventure. This book might be perfect for people who enjoy animals. For my recommendation people who like adventure and animals should like this book. Don't forget to read The Eagle!