Ellray Jakes and the Beanstalk
Written by Sally Warner
Illustrated by Brian Biggs
Reviewed by Brady M. (age 9)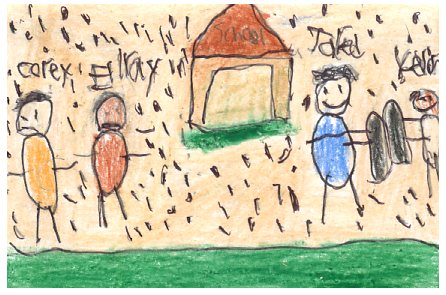 In Ellray Jakes and the Beanstalk, Ellray thinks he's losing his best friend, Kevin, when he sees Kevin skateboarding with the class bully, Jared. Ellray wants to learn to skateboard from his neighbor Henry and Henry's best friend, Fly. So after school, Ellray goes over to Henry's house to learn. When Ellray got back home, after dinner, Ellray's dad wanted Ellray to meet with him in his office. Ellray's dad said Ellray could not skateboard at Henry's house when Fly's there because Fly gets into a lot of trouble. The next day, Ellray had to do a project in school when you have to relate with a fairy tale so Ellray picked Jack and the Beanstalk because Ellray compared himself to Jack. They were both climbing a "beanstalk." Ellray was climbing a "beanstalk" to get his friend back and Jack was climbing a beanstalk to steal from the giant. After school Ellray broke his dad's rule and went over to Henry's house when he knew Fly was there, and Ellray brought his little sister Alfie with him. When Ellray was skateboarding, he saw Fly push Alfie down the stairs on a skateboard. Ellray was so mad he … well, you'll just have to read to find out what Ellray does to Fly, and to see if Ellray gets his best friend back.
I liked how the book had lots of surprises. For example, one morning Ellray went to school and saw his best friend, Kevin playing with the class bully, Jared and they don't like each other. I also was surprised that Ellray's dad knew that Fly gets into trouble. I also liked how there was more than one problem like when Ellray was losing his best friend Kevin, Ellray had to practice for a skateboarding contest, and Ellray had to find a connection he has with Jack and the Beanstalk in school. I liked the illustrations. They clearly showed what was happening. For example, when Ellray saw Kevin playing with Jared, the illustration showed by the expression on Ellray's face that he was sad.
I recommend this book to third and fourth graders because it won't take long for them to read it, and I think they might have lots of connections with Ellray, like losing a friend. I also recommend this book for kids who like comedy. I think you should read this book because it has lots of surprises and problems. Read to find out what happens in Ellray Jakes and the Beanstalk!