Nancy Drew and the Clue Crew Mall Madness
Written by Carolyn Keene
Illustrated by Macky Pamintuan
Reviewed by Lia H. (age 8)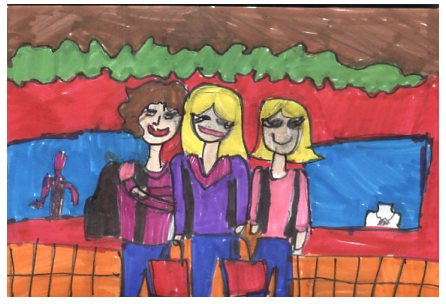 Nancy Drew and the Clue Crew Mall Madness is about Nancy, Bess, and George who love to solve mysteries. Right now they are in the mall doing some back to school shopping for some book bags, pencil boxes, and glittery notebooks. The Clue Crew hears Mr. Gustavson, manager of the store, talking very madly to Rodger. Rodger was taking care of the people in line waiting to pay for things. The problem was they were missing $8.75 from Rodger's cash register and Mr. Gustavson said Rodger had to pay the money back. Nancy feels bad for Rodger because she is his next-door neighbor and Nancy thinks he is nice. So the Clue Crew tries to find out who took the money. Bess found the first clue. She found a tally chart in Rodger's cash register. After they found that clue, they kept on going till they knew who stole the money. Well, to figure out who took the money, you just have to read the book.
I like how the author describes the characters. For example, Bess is a smart character because when she named a suspect she gave a reason why they could be the person who stole the money. This book reminds me of a series that I like called the Calendar Club Mysteries. For example, the characters in both series have something in common. Nancy and Dottie both carry notebooks around, George and Leon love computers, and Bess and Casey are both smart. I think Nancy is a funny character because she is clumsy. In some parts of the book Nancy knocked down a tape display. In another part of the book Nancy knocked down a box of a lot of pencils.
I think kids who love mysteries should read this book. I recommend this book to 3rd graders because it's not hard to read. If you like shopping and funny stories, this is a good book for you. If you enjoy reading books about smart and creative characters there are lots of other Nancy Drew and the Clue Crew books to read, so enjoy!