Frog and Toad are Friends
Written by Arnold Lobel
Illustrated by Arnold Lobel
Reviewed by Xol M. (age 7)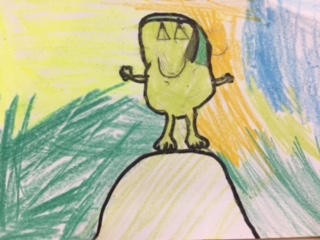 Frog goes to Toad's house. Toad issleeping and is being lazy. Frog says, "Let's have fun." Toad says he wants to sleep. Frog tells Toad he has been asleep since November. Frog tells Toad a story and Toad falls back asleep. Frog changes the calendar and Toad thinks he has been sleeping for a really long time. Toad wakes up and decides that he should spend more time with his friend Frog. They have a lot of adventures together.
My favorite part is when Toad loses his button because he yells and it makes you laugh. Toad is my favorite character because he doesn't have a shirt. This story does not relate to my life. The story has lots of colors so that explains more.
You should read this story because it's really funny and makes you laugh. It is cool, fun,and crazy.