The Giving Tree
Written by Shel Silverstein
Illustrated by Shel Silverstein
Reviewed by Cheyenne B. (age 7)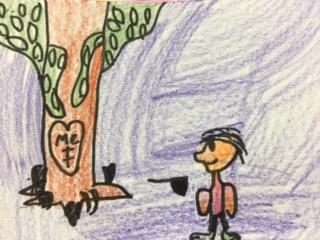 This is the best book about a tree who loved a boy. The boy would come to the tree every day and he would climb her trunk. They would play hide and go seek and the boy loved the tree very much. The tree let him pick the apples and cut it down to make a boat. It let him make a house. The boy was turned into an old man and the tree still loved him.
My favorite part was when the boy cut down on the tree and sat on the stump because they were happy when they were together. My least favorite character is the boy because the tree is better than him. This story relates to my life because I like being around trees. The pictures helped me understand because I get to see what is going on.
I don't think you should read this book because I want it all to myself. This story is happy and sad and one of a kind.