Absolutely Almost
Written by Lisa Graff
Reviewed by Sophie D. (age 9)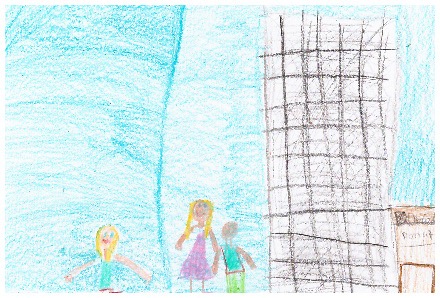 He's always, always almost! You should read Absolutely Almost written by Lisa Graff. Absolutely Almost is the best book I have ever read!
To begin with, there is a boy named Albie and he was an only child. Albie's dad worked a lot so Albie couldn't do a lot with him. For his birthday he got a fake airplane called an A-10 Thunderbolt. He got two of them because the year before, his dad got him the same present. Albie got really mad about this. For a year, Albie had waited for his dad to help him build it, but his dad never helped him so he built it himself. He tried to fly it out the window, but it didn't work so it just fell and broke which also made Albie upset. Albie has a babysitter named Calista and she loves to draw. Calista and Albie like to go downstairs from Albie's apartment to get donuts at the bodega. This is something that makes Albie happy. Calista becomes very important to Albie and helps him to see that he is special and good at many things.
This book is my favorite book because it gave me many different emotions. It was funny, sad, and made me feel happy and content all at the same time because of the many things that happen to Albie. Some parts of this story are very surprising. My favorite surprising part was when Albie was accepted into the math club. He is very surprised because he usually thinks nothing good happens to him. I found Calista to be an interesting character. She was very nice to Albie and I was always wondering what she was drawing. She doesn't let Albie see most of what she draws and I felt like Albie and wanted to know what it was.
In conclusion, I would recommend this book to all kids ages 9-12. There are so many things that happen to Albie that many kids can relate to. You will like Absolutely Almost as much as I did!