The Berenstain Bears In The Dark
Written by Stan & Jan Berenstain
Illustrated by Stan and Jan Berenstain
Reviewed by Ryan S. (age 8)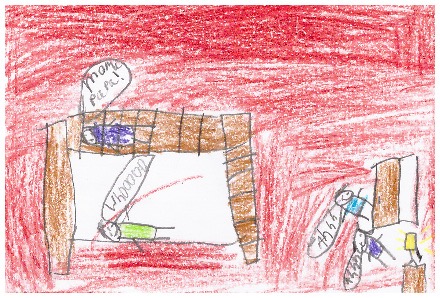 Ahhh!! Mama!! Papa!! Come quick! Join the Bear family in their scary story, the Berenstain Bears in the Dark by Jan and Stan Berenstain.
To begin with, the story starts with Brother and Sister Bear checking out library books. Brother gets a scary book and then reads some of it to Sister when they get home. She gets very nervous and starts seeing crazy things in the dark. She can't sleep and Brother makes a scary wailing sound and Sister screams. Mama and Papa come running in and everyone falls down and no one gets any sleep. The next day, Papa helps Sister to not be afraid of the dark by taking her into the attic and by giving her a night light. Sister finally realizes that the dark isn't really scary.
My favorite part of the story was when Brother Bear was making noises to scare Sister Bear and she called her parents and then the parents tripped when they ran in the room. This was my favorite part because I thought it was funny when they tripped. Also, this story reminds me about when my brother always tried to scare me and tried to read me a scary book. He also was making noises so I would stay awake all night and I would have to call my parents upstairs when I was younger. This story reminds me of my sister too. This is because she always would cry at night because she was scared of everything and we thought she didn't need to be scared.
In conclusion, I think this book should be for kids ages 4 through 10. It is part of the Berenstain Bears series and all of the books are fun to read! I hope you like it!