The Terrible Two
Written by Mac Barnett
Reviewed by Nico C. (age 9)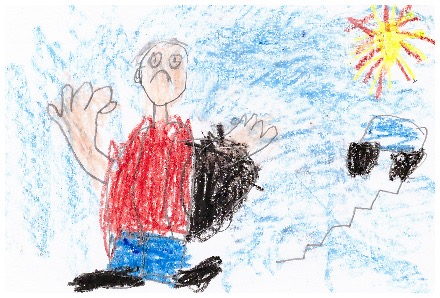 Look out! There are two pranksters coming and their names are Miles and Niles. Check these guys out in The Terrible Two by Mac Barnett and Jory John.
To begin, this story is about two boys who love pranking. Miles is new to the school. He was the most famous prankster at his old school and he plans to do the same here. The other boy, Niles, is the best prankster at the new school, but no one knows. Once Miles figures it out, Niles wants to start a pranking society with him, but Miles doesn't because he likes pranking all on his own. Then they have a prank war to see who is the best prankster. After both putting on a few good pranks of their own, they finally ended the prank war and become the "Terrible Two" and their goal is to prank their school so much to make their principal go crazy.
In addition, my favorite part is when they fill the whole school with cows. This is my favorite part because it is the best prank that the boys do in the entire book. It was so funny to read about! The main characters Miles and Niles both remind me of myself. The reason is because on April 1st which is April Fool's Day, I'm crazy about pranking! This story reminds of pranking in real life. Part of the fun of pranking is the surprise. In the story, Niles surprised Miles with a prank where crickets came out of his backpack. One time I was planning to give my dad nachos with cheese, but I was going to use mustard instead of the cheese! That would have been a surprise!
In conclusion, this book should be read by other authors to see how great it is. Or teachers can read it to children, just like my teacher did to our class. Kids can also read it on their own. It's an awesome book!