Cam Jansen and the Mystery of the Gold Coins
Written by David A. Adler
Illustrated by Susanna Natti
Reviewed by Gracyn K. (age 9)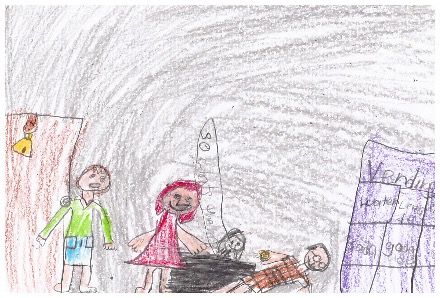 Come help Cam figure out who stole the gold coins! They are missing! Read Cam Jansen and the Mystery of the Gold Coins by David A. Adler to see if she can solve this mystery.
First, Cam is a girl detective. She has a photographic memory so she is able to remember anything she sees. One day, Cam and her friend Eric are at their science fair and Cam's box camera gets stolen. Then, she got a call from a shop saying that some special gold coins where stolen by someone. So Cam and Eric went investigate both of these mysteries and Cam thinks they are related. They called the police officer to tell her what had happened. The police found who had stolen the gold coins at a vending machine, because they were trying to buy things with the gold coins!
Next, my favorite part was when Cam and Eric figured out that the thief was using the coins at the vending machine. It was my favorite part because I like when they tell how they solved the mystery and were able to get the coins and the camera back. This book reminds me of me and my friends Sophia and Amelia. We were trying to solve the mystery of whose dog was in their backyard. We tried to figure out, and we found the owners who had been walking their dog and the dog broke the leash. This book is part of a series. The series is called Cam Jansen. They are all similar because they are all about a mystery that Cam and Eric have to solve.
In conclusion, this book is good for ages 7-10. If you like to solve a mystery, you will enjoy the book! Go get the book today!