Diary of a Wimpy Kid
Written by Jeff Kinney
Illustrated by Jeff Kinney
Reviewed by Ben S. (age 8)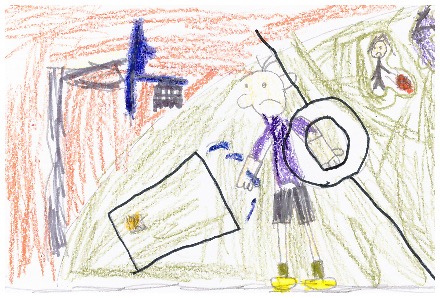 Look! Greg is in middle school! You can find all of the important details here about the book Diary of a Wimpy Kid by Jeff Kinney.
The story is about Greg in middle school in his first year. It shows months October through June. In the beginning, Greg finds it really important to say that his writing is a journal and NOT a diary. He also tells about why he got it. Greg has a friend named Rowley. They go through many middle school problems together. One big one was something called the cheese touch. It's the curse that no one wants to get, and Greg has to show he is a good friend and help Rowley from getting made fun of with it. This book has a lot of comedy with a lot of events like this one.
My favorite part was at the school play at Greg's school. The part I liked was when Patty Farwell got hit by a fake apple by Greg. I liked it because it was hilarious! I thought this book was amazing. I liked it because I like the series of the Diary of Wimpy Kid books. All of the books are alike because they all star Greg and his problems. The character Greg reminds me of myself. I think I am like Greg because he's always getting into trouble at home and I do sometimes too.
This book is good for ages 8-16, especially for boys. Thanks for reading about this great book and especially Greg!