Trouble According to Humphrey
Written by Betty G. Birney
Reviewed by Caroline G. (age 9)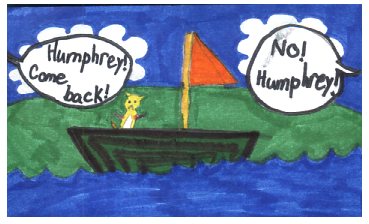 Have you ever felt really, really scared? The book Trouble According to Humphrey by Betty G. Birney is a book about a hamster who gets into big trouble and even bigger danger. To start with, Humphrey, the main character, and the class are doing regular things they do in Room 26 at Longfellow School. Then, Mrs. Brisbane, the teacher, announces that the class will be going on a field trip, and everyone will design a boat for the race with a partner! After that, Humphrey sneaks onto a boat for the race, and is accidentally taken on the trip! He is on the boat, the boat is on the water, and Richie's submarine is heading right for Humphrey! Last, Humphrey holds onto the boat for dear life. A student comes out into the water and gets Humphrey. He is GLAD-GLAD-GLAD! The class has a picnic and special guests arrive! All in all, Humphrey is a book you won't want to miss. You'll have to read the end to find out who the special guests are! READ-READ-READ!
In my opinion, Trouble According to Humphrey by Betty G. Birney is a helpful book for 2nd and 3rd graders. First of all, this book teaches kids how to be careful with small animals. For example, Mrs. Brisbane ensures that Humphrey will not go to the pond on the field trip because he cannot get wet. Also, it teaches kids about different kinds of jobs. For instance, when the kids make a community project, assigns each student a job, such as a shopkeeper. Furthermore, each child has a job to take care of Humphrey over the weekend. Lastly, the book can teach kids how to help one another. For example, the students get partners to work on building boats. Gail and Heidi get mad at each other, but then they make-up. Of course, they get a little help from Mrs. Brisbane. All in all, Humphrey can be fun and helpful for children.
Do you enjoy funny scenes with a playful hamster? If so, Trouble According to Humphrey is the right book for you. Do you like to challenge other people? I'd give this book five stars because of all the fun and daring scenes. I highly recommend Humphrey to 2nd and 3rd who like stories with adventure (and a couple of animals!) Children will love Trouble According to Humphrey by Betty G. Birney. It's a book you won't want to put down! JOY-JOY-JOY!