Diary Of A Wimpy Kid: Dog Days
Written by Jeff Kinney
Illustrated by Jeff Kinney
Reviewed by Teddy M. (age 9)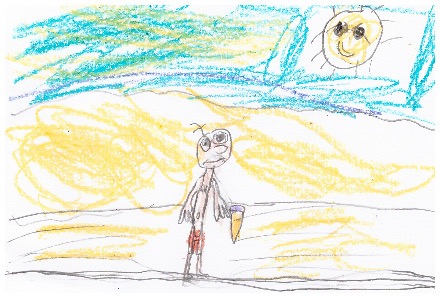 I liked the book Diary of a Wimpy Kid: Dog Days because it was really funny and fun to read. It was written by Jeff Kinney and is the fourth book in the series.
The story was about a boy named Greg Heffley who has plans to play video games all day long all summer. When his dad tells him no more video games, he stays outside for a while but then once he finds new adventures outside he starts to like it. His summer didn't go exactly the way he planned but it was still an adventure. He starts a lawn care service, gets a new pet, and goes to the beach with Rowley and his family. The lesson is even though things do not go as planned they might still be fun.
My favorite part of this book was when Rowley Jefferson, the main character's friend had a nightmare at a sleepover with the main character Greg. He screamed and his parents came in. I thought it was funny so it was my favorite part. The character I liked the most in this book was Greg Heffley because he seems very animated. It makes me want to read more books with Greg. Another character, Susan Heffley, Greg's mom reminds me of my mom. This is because she wants me to read sometimes and in the story Greg's mom makes him read too. The illustrations in this book and all of the diary books are unique. They have no color and the characters are stick figures, but the drawings were still great.
In conclusion, I really liked this book and I think a kid at 9 years old like me should read it. Middle school kids also since the characters are in middle school. This is a really great book and I loved it!