The Pet War
Written by Allan Woodrow
Reviewed by Isabella B. (age 9)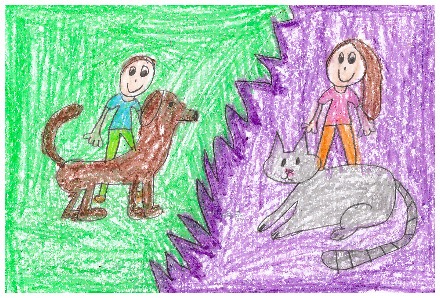 Woof! Woof! Meow! Meow! Come join Otto and Lexi to see who wins the pet war in The Pet War written by Allan Woodrow.
First, Otto's neighbors move away. They had a dog. Otto loved playing with him and walking him so he doesn't want them to leave. Then Otto decides he should get a dog, but his sister wants a cat. Their mom wants no pets at all. Their mom says whoever raises five hundred dollars first gets a pet. Otto tried to get to five hundred dollars but it was very hard. He is afraid that his sister might win because she is tutoring. Otto has gotten in big trouble trying to make money. Now he has a dog walking service and it might just get him the winning amount!
I think this book is really good to read. I like this book because it is about pets and war between a brother and sister. It tells about what Otto does to get money. It is funny! My favorite part is when one of the dogs that Otto is watching kept bouncing and yapping. This was my favorite part because it was funny to try to picture how a dog would bounce and yapp like that. In the book when it said the dog was yapping over and over again like "yapp, yapp, yapp, yapp." Otto was an interesting character. Otto was interesting because he was learning how to make money. It was fun and interesting to see how he was making money and made me think that I would be able to do this on my own too.
In conclusion, I think this book is good for boys and girls ages six to nine. I think you will love this book, especially if you want or have a pet of your own!