Snowflake
Written by Suzanne Weyn
Reviewed by Lauren L. (age 9)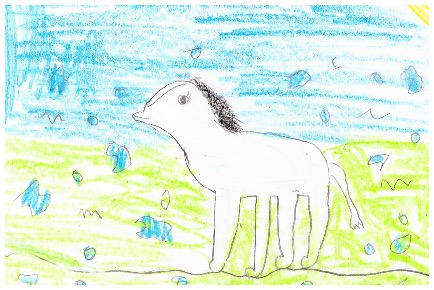 Neigh! Neigh! Come join Kelly, Mandy, Anna, Emily and their horse in an awesome adventure in the book Snowflake by Suzanne Weyn.
To begin with, this story was about a horse that was abandoned by her owners. He is found and taken to Fox Creek Farm where he meets three new friends that want to help him. First, weeks passed and the girls named the horse Snowflake because it was his first time in the snow. They were worried about him because of the cold and wanted to get him a blanket. They had an idea of getting the old sleigh and they tied it to the horse and went sledding. They thought they could use the sleigh to raise money to buy Snowflake a blanket too! So they planned to have sleigh rides to do this.
In addition, I liked this book because they helped the horse stay warm a healthy and survive. I liked this because they are only kids and that they helped a living animal get strong by grooming him, watering him and feeding him with carrots and apples and then his ribs no longer showed then when he was strong enough. My favorite part was when they thought of getting the old sleigh and went sledding in the snow. I liked this part because it was so much fun for the girls and Snowflake. This book is a part of a series called the Breyer Stablemates and they are also similar to the other books because they all have horses in the books. The differences in the books are that they all have different settings and different horses and they have different main characters.
In conclusion, this book is perfect for kids ages 6-9. I recommend all girls that like horses should read all books that are in this series. You will really love them!