Diary of a Wimpy Kid
Written by Jeff Kinney
Illustrated by Jeff Kinney
Reviewed by Teddy M. (age 9)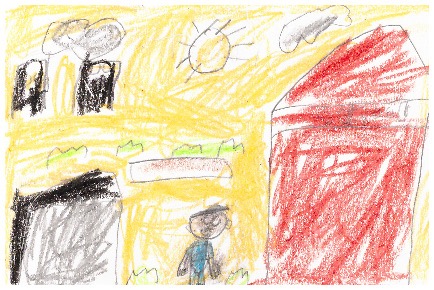 I really enjoy reading books that have awesome illustrations in them! If you do too, read Diary of a Wimpy Kid by Jeff Kinney.
This book is all about friendship. Greg is the main character who isn't a very good friend at the beginning. He is more worried about himself and all of the problems he has in middle school. His best friend Rowley is always a good friend to him, but it takes Greg some time to make sure he is a good friend back. Rowley seems to become more popular in middle school then Greg, especially after he breaks his arm after Greg knocks him off his bike, so Greg tries to make himself popular too, but he's not very good at it. When the horrible "Cheese Touch" curse is forced upon them, Greg finally does the right thing and says he ate the cheese that everybody is scared of so they won't make fun of Rowley. He proves to be a good friend after all.
In addition, my favorite part of Diary of a Wimpy Kid was when Greg and Rowley scared another boy named Shane. I liked this part because of how scared Shane was. It was a really funny part! Also, this book is special because people can learn about friendship. It teaches a good lesson about how to be a good friend, even when it might be hard. Finally, I really like this book because it's really funny. The funniest part was when Rowley ate the cheese, because I couldn't believe he actually did it!!!
In conclusion this book was really funny and thrilling and I liked it so much. I think you will feel the same way! If you are a boy age 8-12, you should definitely try this book right away!