The Berenstain Bears Trick or Treat
Written by Stan & Jan Berenstain
Reviewed by Dominic A. (age 9)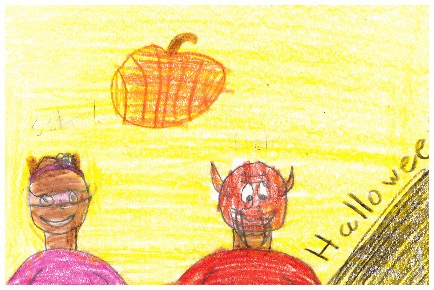 Ooo! Ooo! Its scary out here! Come catch Brother Bear and Sister Bear on their scary and dark adventure in the Berenstain Bears: Trick or Treat by Stan and Jan Berenstain.
To begin with this story was about a bear family that has two cubs and they are going trick or treating for Halloween. They invite their friends over to go trick or treating with them. The two kids want their mom and dad to come with them because there is this mean witch that lives across the street. The kids think that the witch is mean but after a few very scary moments they find out that she is very nice. They end up celebrating Halloween with her and learn a very good lesson.
In addition, my favorite part of the story was when Brother Bear and Sister Bear and their friends went to the witch's house. The witch took them inside for some candy. I was surprised because usually a witch is most likely going to be mean. This story reminds me of when I was going trick or treating and there was a really creepy house. A man was there who had with blood on his fingers. It was scary!! This book is part of a series. It is similar to the other books in the series because they all have the same characters, the bear family. The books are different because this one is about Halloween and trick or treating and the others all have different stories to tell about the bears.
In conclusion, this book is great for boys and girls ages 5 to 10. I also think this is good for people who love Halloween. Go to the library and read this book!