Big Nate: On a Roll
Written by Lincoln Pierce
Reviewed by Ben S. (age 8)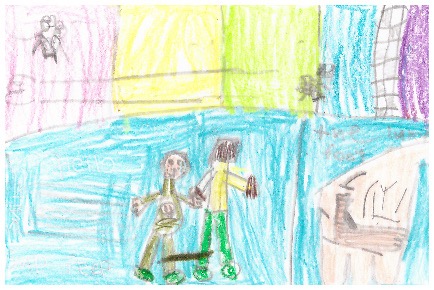 Have you ever had bad luck and then all of sudden had good luck? Let's find out if Nate's luck will last in Big Nate: In the Zone by Lincoln Pierce.
To begin with, this story was about a boy named Nate who was having trouble in the beginning with just about everything! This included school, sports, and even his friends. He was getting some bad grades, he got stage fright in front of the whole school, and a popular kid was mean to him. But then, someone gives something to Nate that gives him good luck. It's from his friend Chad and it's a lucky foot. His new luck seems to be great and it puts him "in the zone!" But his luck doesn't always seem to work and he has to figure some things out on his own.
In addition, I thought this book was great because Nate was on a roll when he got the lucky foot. This is because he because he's so lucky such as when he shot a basketball backwards at mid-court with his eyes closed and made it! My favorite part is when Chad and Maya won the bet for the seventh grade. They had to beat the sixth grade at field day. They did and the bully who they made the bet with had to be in Nate's band for a week. This was my favorite because I love teamwork. The characters that I found most interesting were Chad, Nate, Maya and Gina. I liked them the most because they are friends and it shows boys and girls can be friends.
In conclusion, this book is good for kids ages 8-16. It will make you laugh and wish you had good luck! You should definitely buy this book today!