Hank the Cowdog: The Case of the Vampire Cat
Written by John R. Erickson
Illustrated by Gerald L. Holmes
Reviewed by Kyle D. (age 8)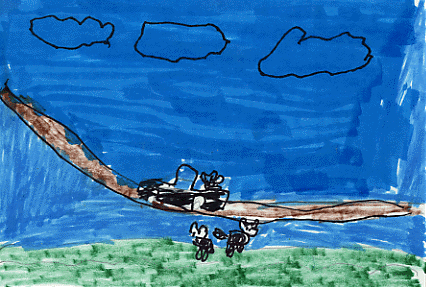 This is a book about a dog named Hank who lives on a farm. He fell out of a truck and got abandoned in a canyon. He ran away from two coyotes and found Mary D. Cat under a cake house. He wants to go home but he knows he that he'll meet Snort and Hunk the coyote brothers on the way back. Will he make it? And who is that vampire cat?
My favorite part is when Hank teases the coyotes about their mama. It was a very, very funny part. I liked the character of Hank because he was grumpy sometimes, but he did a lot of things that made me laugh. When Hank hit the skunk under the cakehouse, it was exciting. I really liked the book, and I would like to read some more Hank the Cowdog books.
I recommend this book for kids to read because it's funny and it will help young children read better.