The Canary Caper
Written by Ron Roy
Illustrated by John Steven Gurney
Reviewed by Ava R. (age 8)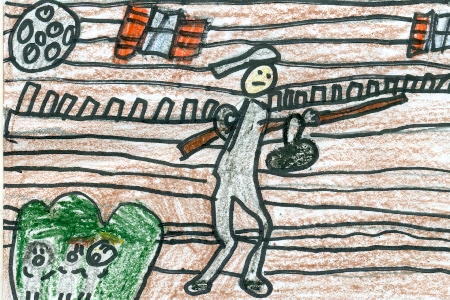 The circus is in town! Dink, Josh, and Ruth Rose are going to the circus but Mrs. Davis stopped them because her bird was missing. They tried to find her but they couldn't. They go home and that is when Ruth Rose's cat Tiger disappears. They talk to Officer Fallon., He knows some other pets that are missing. This is too weird. Can Dink, Josh, and Ruth Rose solve the case and bring the pets back to their owners? Read The Canary Caper to find out!
A to Z mysteries are FANTASTIC! Anyone and everyone should read it. I bet everyone would love it, even grownups. Dink and Ruth Rose are always serious. Josh is funny because he has to eat every 5 minutes and says he is starving. Dink, Josh, and Ruth Rose are amazing! They can solve mysteries so quickly. I can solve some things but not like them. Nicholas, my brother, did a scavenger hunt so my cousins Christopher, Madison, and me had to work together to solve it. They also needed teamwork to solve the case. When I read this I could visualize every page. It was easy to. When it says a "beautiful day" I could see all birds singing and green grass growing. Butterflies with beautiful wings. That is why I love the book so much. When they got ice cream I could taste the ice cream. This was a very descriptive book.
I recommend 1st graders and up should read this book. Put on your thinking caps because this book this book will make you think, think, and think till that light bulb shines bright. You will keep having different predictions until you get the right one. These detective won't stop till they find the pet-napper so you shouldn't give up thinking. People who love the mystery books you will enjoy this one!