Young Cam Jansen and the Pizza Shop Mystery
Written by David A. Adler
Illustrated by Susanna Natti
Reviewed by John C. (age 9)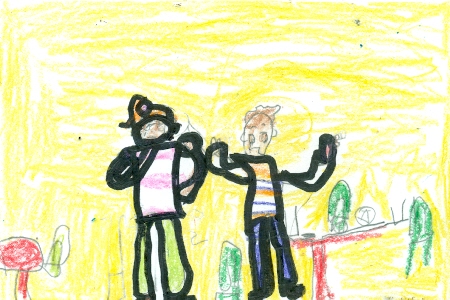 Cam, her friend Eric and Cam's dad, went to the mall's pizza shop. Cam found a table. She put her jacket on one of the chairs. When she came back, her jacket was gone. Who took it? Can Cam solve this mystery? Read to find out how Cam and her sidekick Erik solve the case!
I thought the characters were funny because it was a silly mistake that something was stolen. This book reminded me of the The Stolen Monkey. Both books had something stolen. My favorite part was when Cam lost her jacket it made me wonder who stole it.
Kids who like pizza and mysteries will love this book. It has lots of clues and several suspects. Kids ages 7 to 9 would enjoy this book. It is a good mystery to solve. This book has great pictures which help get into the mind of the characters.