Diary of a Wimpy Kid: Rodrick Rules
Written by Jeff Kinney
Reviewed by Massimo P. (age 9)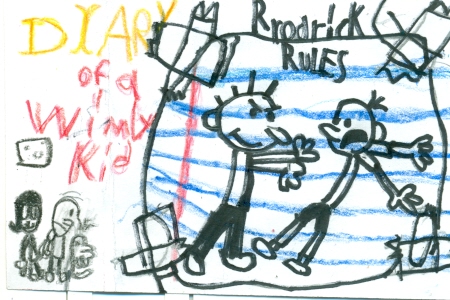 Diary of a Wimpy Kid is an amazing and funny book about a boy named Greg with an older brother named Rodrick. Greg has no luck except bad luck, He is clumsy and gets no respect from anyone. Greg tries his best to get respect throughout the story. He has a little brother Manny who always tells on him, That is pretty much his job. If you want to find out more, read this book.
I thought this book was funny because the character does funny things such as shoving pancakes in Greg's Xbox and his big brother is in a band called the Loaded Diaper. This story reminds me of my brother and I. He is older and sometimes he plays tricks on me just like how Rodrick does to Greg. Rodrick is lucky to have Greg and my brother is lucky to have me.
I think children who are in second through fourth grade should read this book because it is funny. The children will enjoy reading about the silly characters and how they behave. I think readers who like to be entertained by reading this humorous book. This is the perfect book for you.