Stone Fox
Written by John Reynolds Gardiner
Illustrated by Marcia Sewall
Reviewed by Gracyn K. (age 9)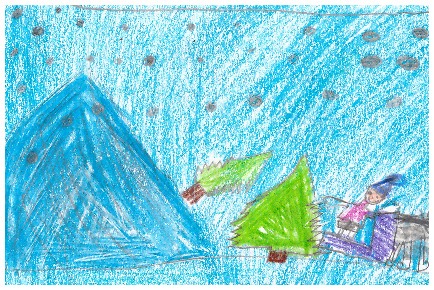 I want to win! Go Searchlight! Find out who will win the big race in Stone Fox by John Reynolds Gardiner.
To begin with, this story was about a boy and his grandpa. In the beginning, the grandpa got sick and they thought he would die. But the grandpa survived and the boy, Little Willy, did everything to take care of his grandpa including feeding and taking care of the farm, but the grandpa could not talk so they had hand signals. Soon Willy found out that they were going to lose their potato farm if they didn't pay overdue taxes so Willy entered a dogsled race against the best racer, a large Indian named Stone Fox. Willy had to win to save the farm and everyone in his town was cheering for him! His best friend, his dog Searchlight, was going to help him.
In addition, I really enjoyed this book because of the different feelings it gave me. I felt this way because it was funny in some parts, but also sad or exciting in other parts. The race was definitely the most exciting part! I found Little Willy to be an interesting character because he was older but sounded like he was really little because of his name. Even though he sounded so young, Little Willy was doing everything for his dog and for his grandpa including the farming and going to the bank. My favorite part was one when Willy helped his grandpa eat. I liked it because the grandpa was sick and couldn't do it himself so you could see how much Willy cared about him.
In conclusion, this book is great for anyone who likes books that make you feel happy and sad at the same time. People who are ages seven to ten can definitely read this book. Go and get it today!