Cam Jansen and the Mystery at the Haunted House
Written by David A. Adler
Illustrated by Susanna Natti
Reviewed by Callee J. (age 8)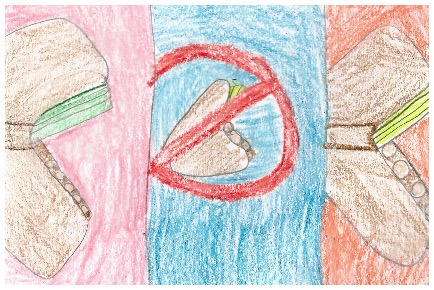 Where's my wallet? Find out about the missing wallet in Cam Jansen and the Mystery at the Haunted House by David A. Adler.
To begin with, this story is about a girl detective named Cam and her aunt, uncle, and friend Eric. It tells all about when her Aunt lost her wallet and how they try to find it. In the beginning of the story, they all went through a haunted house and when they come out they head to a beverage stand. After they order, Aunt Katie goes to grab her wallet and it is missing! Then, they left the stand and went to sit down to try to figure out what to do. Two boys came blazing by on roller skates, and they were the same two boys that have been hitting people all day, including Aunt Katie. Cam thought they took the wallet. She has to use her detective work and photographic memory to try to prove it!
In addition, I liked the book because it is a mystery and I love mysteries. I was feeling suspense when they were having such a great day at the carnival and then all of a sudden her Aunt Katie lost her wallet. My favorite part was when Cam stayed in the haunted house to find out if the person stealing the wallets was in there. Aunt Katie grew more worried by the second, so she looked everywhere and asked everybody if they saw Cam. I thought that was funny because Cam was just fine. I found Cam to be a very interesting character. This is because she has a photographic memory. Her real name is Jennifer, but once they found out about her memory they called her "The Camera" and then that got shortened to the nickname Cam.
In conclusion, this book is perfect for boys and girls ages 7-9 who like a good mystery. I also recommend to read it with family members. You should go read it now!