Owl Diaries: Eva and the New Owl
Written by Rebecca Elliot
Reviewed by Isabella B. (age 9)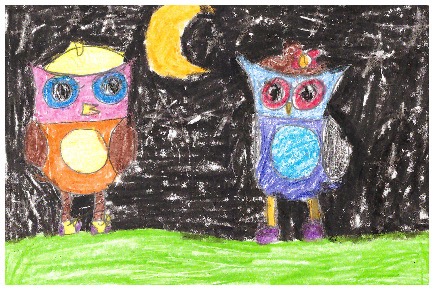 Hoot! Hoot! Come join Eva the owl who has fun adventures at school in Owl Diaries: Eva and the New Owl by Rebecca Elliot.
To begin with, this story was about an owl who was going to school and a new owl who she wanted to be friends with. First, at school her teacher tells the class that they are going to create a newspaper. The prize is two movie tickets. The next day, a new owl is coming to school so Eva goes to the hair salon, makes a picture, makes a necklace, and makes a guide of Treetoplis for the new owl. Then Eva meets the new owl. Her name is Hailey. But the problem is, Hailey wants to be friends with Lucy. Lucy is Eva's best friend so Eva gets jealous. She has to learn how they can all become friends instead.
In addition, my favorite part was when everyone got their jobs for the newspaper because I like having important jobs. My favorite jobs are the photographer and designer. This story reminded me of when I had a contest for a party. The winners would get a trophy and get to eat first. This was like the newspaper contest in the book. Also, there are a lot of illustrations in this story. I liked the illustrations because they had so much detail. They showed what the characters are doing. The author uses all the colors for her pictures.
In conclusion, this book is perfect for girls ages six to nine. I also think this book is great to read with your friend. I think you will love this book!