The BFG
Written by Roald Dahl
Illustrated by Quentin Blake
Reviewed by Isabella G. (age 9)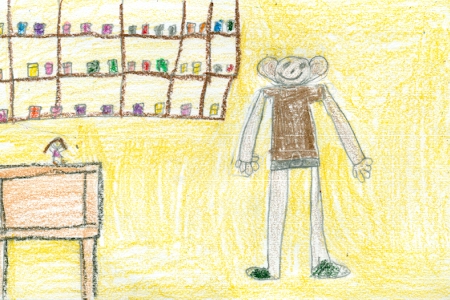 If you like imagining than The BFG is the book for you. The BFG is about a little girl named Sophie who saw this giant named the BFG. The BFG grabbed Sophie! Sophie was screaming! The BFG didn't let Sophie escape! Sophie was trembling with fear. Do you think Sophie will survive? Read the book to find out.
In my opinon the BFG is the best book ever! The book is so good. I loved it! I loved it because it makes you laugh, smile, get nervous, scared and happy. My favorite part was when the BFG and Sophie got the queen to drop the giants in the water. It was so funny and the giants were so mad! Also the giants couldn't be mean to the BFG and Sophie anymore. The BFG reminds me of my sister because the BFG is funny and strong and so is my sister. That is why I think the BFG is the best book ever.
I highly recommend this book because the BFG has really funny words in it. It also is very nerve wracking and scary. I recommend this book to ages 9 to an adult. I recommend the BFG to those people because you will like the pictures and you will feel like you are a character in the book. I believe the characters and worlds in the BFG will interest the readers.