Gifts of the Heart
Written by Patricia Polacco
Illustrated by Patricia Polacco
Reviewed by Sophia P. (age 8)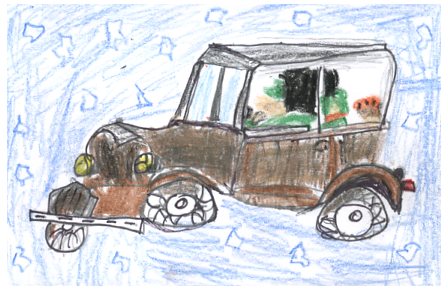 Gifts of the Heart is a good book to read. It has a little story on the first page that gives you some details about what the book will be about. Grandpa was driving a Model A car. Grandma had died in the fall, so grandpa is selling the farm in the spring. Richie and I got a nanny to watch us because Grandpa said that we came home too late and he worked. It was going to be Christmas soon. The girl wanted a ballerina and her rotten red head older brother wanted a train.
My opinion is that Patricia Polacco's writing makes me picture what will happen next. I love how Patricia Polacco talks about her life. I never knew that Babushka met Grandma. I always admire how she puts real photographs in the back of her book.
I think kids should be at least 7 years old or older because there are some challenging words. This is a very good book to read because it makes you wonder. This book is about Patricia's family, which I loved. I hope you enjoy this book as much as I did. It has a lot of details. Read to find out what happens next in the book Gifts of the Heart.