The Hero's Guide to Saving Your Kingdom
Written by Christopher Healy
Reviewed by Maya B. (age 8)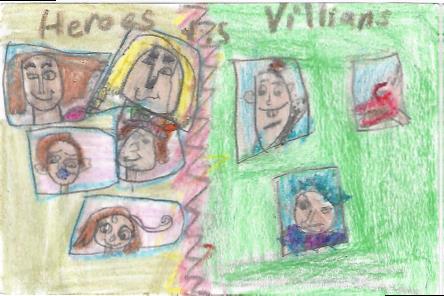 Do you want to go on a daring mission with four princes and four princesses? Who wouldn't? In the "Hero's Guide to Saving Your Kingdom," by Christopher Healy, find out how they meet and have exciting adventures together. This book is a great fairy tale for you to read.
Frederick, the prince of Harmonia, has a big problem. His fiance ran away. He tries to find her and meets three other princes along the way. Meanwhile, Ella, the runaway fiance, meets three princesses. They all become a team and try to defeat the evil witch who is seeking to take over all their kingdoms. They go on many adventures together and get into lots of trouble too!
This book is not like any other book I've read and is unique. The author recycled popular fairy tales like Cinderella, Rapunzel, Snow White and Sleeping Beauty with a twist. I felt excited reading it and wondered what a great imagination the author had. He never seemed to run out of good ideas. I felt Ella was just like me because she liked exploring and adventures. I would love to go on an adventure like she did in this book! My favorite part was the battle with the evil witch because of the surprises and thrills.
I recommend the book because you could feel like you are on the royal team for the fairy tale adventure. Both girls and boys can enjoy this book because they worked together. You will enjoy the unexpected, funny settings like a rooftop. If you like daring fairy tales than gallop your way through the fairy tale aisle in the library and find "The Hero's Guide to Saving your Kingdom."